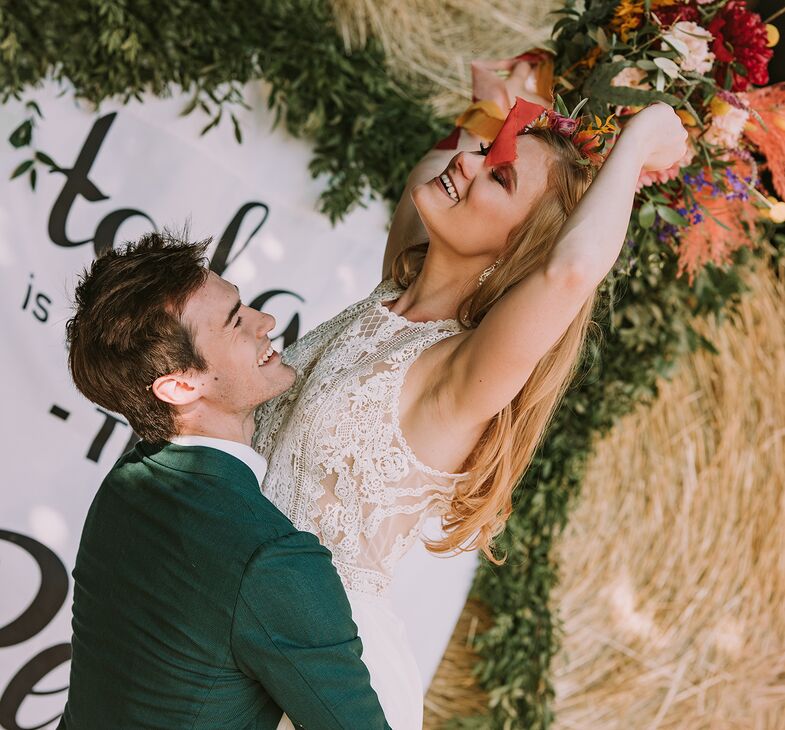 Outdoor wedding - fashion or necessity?
13.10.2022
The wedding industry has suffered greatly in the last several months of the pandemic due to numerous restrictions and restrictions introduced by the government. Everyone is tired of this inactivity, but finally there is a light in the tunnel and from May 15, during the wedding, there may be 25 people in the open air, and from May 29, 50 people inside. It is important to remember that admitted persons do not count towards these limits.
More and more couples are leaning towards the option of an outdoor wedding, because they are fed up with waiting and want to make their dreams of a beautiful wedding and wedding come true.
From our perspective, it is a very good idea, and we love to organize this type of celebration. An outdoor wedding has an amazing atmosphere thanks to a unique place chosen together with the Bride and Groom, closeness to nature and unlimited decorative possibilities.
An outdoor wedding is a fairy-tale event. However, it is worth remembering about a few most important issues that can spoil this wonderful day for you.

Weather
One of the most important issues of outdoor weddings is the weather. You have to prepare for any eventuality. If the weather is beautiful and sunny, you will enjoy romantic moments in the open air. If it rains, however, it is worth renting a garden tent in advance and various types of gazebos that will provide you and your guests with shelter in case of bad weather. It is also worth remembering about the wedding ceremony itself and, for example, taking care of umbrellas for guests, so that the outdoor wedding does not turn out to be a flop.

Decor
The open air is a decoration in itself, so you do not have to invest in very fancy decorations, but it is worth renting accessories that will show the guests the main theme of your outdoor wedding. Delicate floral decorations, lanterns and lanterns as well as a zone with deckchairs or pouffes serving as a relaxation or chillout zone will perfectly diversify any outdoor wedding.

Lighting
This is also a very important point. Appropriate lighting will give the atmosphere and unique character of the place where the outdoor wedding is organized. Candles, lanterns and light garlands create a wonderful romantic atmosphere.

Menu
As is well known, music and food are one of the most important issues at a successful wedding reception. That is why it is worth engaging a proven catering company that will prepare delicious food and advise you on what dishes will work at an outdoor wedding. Often, places offering the option of an outdoor party have their own kitchen where they can prepare meals - in our opinion, this is a much safer solution, thanks to which an outdoor wedding will run smoothly.

Musical setting
It is important that you check in advance whether the place you have chosen for an outdoor wedding will not be near houses or other groups of people. You have to be sure that the music you serve to your guests will not disturb anyone from the outside.

Transport for guests
It is worth doing a reconnaissance among the invited guests, whether they have a means of transport to reach your wedding outdoors. If not, take care of renting a minibus or bus for your guests so that they do not worry about commuting and returning home.

Convenience and comfort again :)
Remember that an outdoor wedding has its own rules. It is worth giving up formal attire for something more casual. Shoes should be flat, because walking on the grass in high heels is not pleasant for the feet.

Season and insects
When organizing an outdoor wedding, remember about the time of the year you choose for this wonderful day. Usually it is spring, summer or early fall. You must take into account the insects that will accompany you during an outdoor wedding. We advise you to adequately protect against this inconvenience by using insect sprays, repellent candles or sprinkling the area with special insecticides beforehand.
The elements mentioned by us do not exhaust the topic of organizing an outdoor wedding. There are many aspects that you as a Bride and Groom need to focus on and remember. If you do not have time and energy for this type of activity, we are at your disposal. We will organize a wedding ceremony and a wedding reception outdoors like from a fairy tale. You will not worry about anything, because you will be in the hands of professionals :)

We look forward to working with you!