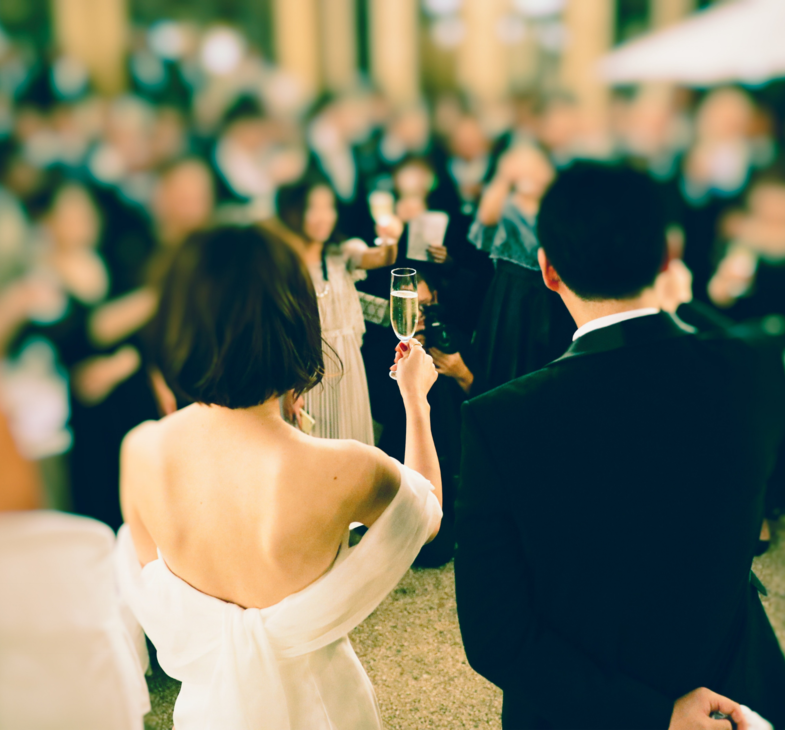 Faux pas at a wedding - 5 slip-ups seen through the eyes of guests!
13.10.2022
Mishaps happen even at the best-planned wedding, as they are often beyond our control. As wedding consultants with years of experience in organizing special events, we try to anticipate every black scenario, but how many guests - so many possible troublesome situations ? Read about five selected mishaps, seen through the eyes of wedding guests, which can spoil this one and only day.

Drunken groom
We will start with a mishap of a strong caliber, that is, a drunken groom. Contrary to appearances, this is not uncommon, as gentlemen are much more likely to allow themselves to drink a few deep glasses too much, without considering the consequences. This is a terribly difficult and extremely embarrassing situation, especially since it is usually the bride who shoulders the burden of taking care of her newly married spouse. On the other hand, when the wedding consultant is at the ceremony, he can , "take over" such a delinquent, take him to a secluded place and try to get him on his feet. There are many methods to sober up, starting with a cold shower, strong coffee with lemon, taking glucose or eating hot soup. The bride at this time can take care of the guests and distract them from her husband's condition. Although temporarily ;-)

No invitations to the wedding
Nowadays when technology is developing so fast, we often forget the traditional form of inviting guests to the ceremony. Our clients ask if they can't invite guests via instant messaging, email or text message. As a wedding planner, we are aware of the importance of a traditional invitation that is personalized and prepared specifically with the person in mind. Such an invitation raises the profile of the wedding, is a nod to the invited guests and a sign of respect. Before the invitation is sent, a "Save the date" is also sent in paper form so that your guests can book the designated date in advance.
Remember, it's worth taking the time to create your guest list and choose your invitations. A wedding consultant will help you every step of the way so that you are satisfied and your guests are honored to be present at your wedding and reception.

Checking envelopes with guests
There are brides and grooms who can't wait to know the amount of money they've raised during the wedding and look into the envelopes the moment they receive them. Dear brides and grooms, never do this in the presence of your guests! This is a sign of disrespect and lack of knowledge of the basics of savoir vivre. You will have plenty of time to count the amount of money you have accumulated after the ceremony. In the meantime, take care of your guests and have a great time. After all, you have waited so long for this dream day!

Band or photographer under the influence of alcohol
It is worth remembering not to provide alcohol to subcontractors such as the band, photographer or videographer. By forgetting this and treating these people as guests, we can often see the staff being in an intoxicated state and not performing their duties properly. Let's remember that this is their job, for which they are paid. They didn't come to the wedding to socialize, they came to earn money.
The wedding consultant is there to keep the service from becoming inebriated, first and foremost by including appropriate clauses in contracts with subcontractors and working with a group of trusted partners.

Tasty portions or unpalatable food
When choosing a venue for your wedding reception, pay attention to the menu offered. The food can tell you a lot about the venue where you want to hold your event. The wedding consultant will arrange in advance a tasting of the selected main courses, so you can check whether they will be tasty, assess the portion size and aesthetics of the dishes.
Who but you - the bride and groom - know your guests best. You are able to assess whether they will be satisfied with the chosen menu. It has become a common misconception that at weddings dishes must be fatty and portions large, because you need to make a good foundation for the booze ? Meanwhile, when choosing a menu, be guided not only by your preferences, but also have your guests' opinions in mind. The food and the band are some of the most important issues that affect guest satisfaction. Also ask if any of your guests happen to be vegetarian or vegan, or have food allergies. By doing so, you will show that you are interested in your guests and count with their opinion.
We have presented you with a portion of other mishaps that may or may not take place during your wedding ceremony. If you do not want any of them to happen on this beautiful day, think whether a professional wedding consultant, would not be advisable. A wedding planner will not only take care of every detail of the ceremony, but will also help you in unforeseen situations ;-)